Social media has been a must-have for businesses ever since marketers from different industries saw its potential to build brand awareness, form customer relationships, and connect with other trades. As a result, several marketing strategies further flourished over the years as marketers developed more ways to promote their brands.
And today, with over 4 billion social media users worldwide, social media as a marketing tool has helped thousands of companies to advertise their products and services, increase their engagement levels, and gain international recognition.
Once you have incorporated your business, the next step is to market it in the right way. If you want to grow your business, using social media to promote your brand can definitely give you a good boost.
But how exactly can you use social media to grow your business?
Here are a few ways you can utilize your platform to boost your brand.
How to Boost Your Brand on Social Media
Selecting the Right Platforms for You
There are a ton of choices out there, and you could decidedly use every single one. But choosing which platforms are right for you will help you use your time and effort more efficiently—and make your job simply much easier.
You can research trends and conduct surveys from your target audience to know which platform they mostly use. This way, you'll be able to know your audience and connect with them effortlessly. Three of the most popular choices include Facebook, Instagram, and Twitter.
You can also research the competition to know what marketing plan you want to adopt from others and pursue.
Before creating your business page, it's also important to set SMART goals: specific, measurable, attainable, relevant, and timely.
Your social media presence can also help you attract global talent to work with you. It would help them better understand your brand and organization's culture and create an eagerness and passion for being part of your company.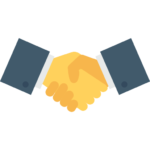 Need Help Hiring Global Talent?
Timcole can help you apply for the right work pass for your foreign employees.
Feel free to contact us for a free consultation today.
Content Creation
We can quickly post a hundred things online nowadays. But knowing what you need and want to put on your page can save you time and effort, which are significant assets in your business.
When talking about content, it's important to pay attention to trends. By researching what type of content is appropriate for your page, you can know what is most appealing to your target audience. Creating content in the context of current events can make your posts more interesting, engaging, and entertaining.
Articles can be relevant to your business. You can introduce your brand through storytelling, upload photos of your online brochure, or show people your physical store. You can also produce video content such as product ads or service introductions. But remember only to showcase the truth. You can lose your brand integrity if you put up something on social media that doesn't resonate with your company's vision and mission.
This also shows how transparent your company is when it comes to sharing its information. Being transparent will help your business grow, gain credibility, and earn loyal customers as well as employees.
You can create a content calendar for your platform and plan content you want to publish at a specific time. This will give you a concrete plan on the general direction of your page and make your content consistent.
There are literally no limits when it comes to content production, but having a consistent idea can make all the difference you need for your brand to be recognized. In addition, focusing on quality instead of quantity can efficiently help you make appropriate content for your page.
Engaging with Your Audience
Connecting with your target audience is undeniably an essential part of social media marketing. Social media, after all, is social.
Creating an interactive space for your followers will make your page more inviting and lively.
You can create online forms where your audience can give you feedback about your products and services. You'll know what to do to improve then, and your target customers can receive better outputs and make their money worth it.
Surveys and polls can provide you with sorts of data that can be useful in growing your business in general and encourage audience engagement.
Frequently participating in discussions and liking and replying to their comments can reinforce an interactive space where you and your audience can connect freely. By doing so, you are also building a community.
Promoting Your Brand on Different Platforms
There's nothing wrong with having only one social media page dedicated to promoting your products and services. And while managing three or more pages can demand more work, it would definitely be worth it.
It's important to note that this doesn't mean you start over-promoting and spamming your audience with shared posts. You can simply add links to your social media accounts on each of your profiles. You can also put social media icons with your alternative accounts' usernames on your publication materials and profile banners. Having dedicated posts solely for promoting your platforms from time to time can also be your go-to strategy for cross-platform sharing. Remember to use these platforms wisely to increase your business profits.
Promos, Discounts, and Giveaways
Everyone loves free stuff and discounted purchases. So giving out promos, discounts, and giveaways from time to time can boost your engagement numbers significantly.
There are a ton of things you can do. For example, you can advertise holiday promos on Christmas, like discounted purchases on specific products. In addition, you can run a contest among your audience to further encourage engagement and interaction within your platform and advertise your featured products simultaneously. You can also have giveaways on your business' anniversaries as a form of gratitude to your customers.
Tracking Your Performance
Tracking your performance is crucial in knowing whether your strategies are actually producing satisfactory results. Linking your sales to good accounting software like Xero can help you track how many purchase orders have been made, if any payments are pending, and manage the inventory. It would assist you in gauging if your plan is in place or do you need to rethink your branding strategy.
You can track your engagement levels on the actual platform. Make a note of what works for your page and what doesn't. You can conduct surveys among your audience and ask for some feedback (and you can definitely give small promos if it encourages participation). You can also use research analytics tools (depending on what metrics you want to use) that can provide you with data relevant to your page's engagement levels and measure your success in marketing your social media account in general.
It's necessary to expand your community if you want your brand to keep thriving. As you grow your community, you grow your business too. This would mean devoting a lot of time and effort to managing your social media pages to keep them consistent and true to the goals and vision of your business. It can be very overwhelming at first, but all successful brands start somewhere here—and you are as close to them as your first post.