Introduced by the National Council for Social Services (NCSS), the Invictus Fund is an attempt to support Social Service Agencies (SSA) with private donations. The aim is to help encourage SSAs to enhance service delivery and offer more value-add functions to clients.
SSAs have recently struggled to maintain their standards and services due to the global Covid-19 pandemic. For this reason, the Singapore government has announced an $18.3 million top-up to the Invictus Fund. Announced in June 2020, during the Fortitude Budget, the additional funding will offer SSAs with the much-needed relief to maintain service delivery during these challenging times.
How Much Funding Can a Company Get?
SSAs can utilise the Invictus Fund to transform operations in two areas: Digital Solutions and Business Continuity Plan. Below is a break-down of how much funding a company can receive for each of these categories.
Digital Solutions
SSAs can use the Invictus Fund to support digitalization. They may use the fund to adopt technology and improve service standards and overall work process in the following ways:
Pre-Scoped IT Solutions: The fund may be used for IT solutions such as Laptops and Online Conferencing Tools, Accounting & HR System, Document Management, and Inventory Tracking. 80% of the cost can be defrayed using the Invictus Fund, with a $30,000 cap per SSA. Some commonly used Pre-Scoped IT Solutions are:

ABSS Accounting Software
HR Easily Payroll Solution

Customised Solutions: The fund may also be used to cover 80% of the cost of uniquely tailored systems to meet the company's specific needs. An SSA can get a maximum Invictus funding of $300,000 under this category.
Business Continuity Plan
SSAs can also use the Invictus Fund to adopt continuity plans of the business. The continuity plans may include Safe management systems while abiding by the rules of the new normal such as reduced interaction and social distancing. Companies might want to use the fund for contact tracing, health checks, and also for maintaining proper cleanliness. Each SSA can use up to $100,000 for business continuity plans.
READ: How to handle the Coronavirus outbreak for a safe and healthy working environment (guide for employers)
Eligibility and Application for The Invictus Fund
The Invictus Fund is available for all NCSS associates and full members. Eligible companies may apply through the NCSS online portal during one of the application windows mentioned below:
28 September to 30 October 2020
4 to 29 January 2021
5 to 30 April 2021
5 to 30 July 2021
Applicants will receive a decision within 6 weeks of submission.
Frequently Asked Questions (FAQ)
Can an SSA apply for multiple pre-scoped IT solutions?
Yes. An SSA may apply for one or more pre-scoped solutions. However, the total funding each SSA can receive is a maximum of $30,000.
Are there any caps to online conferencing tools and laptop purchase?
Yes. Each SSA can only buy online conferencing tools and laptops worth up to $8,000.
How long should the pre-scoped IT solution be used for?
The digital solution should be used for at least one year.
When can we submit claims?
SSAs must use the solutions for at least one month before claiming the Invictus Fund.
How will the fund be provided?
The funds will be credited directly to the SSA's bank account.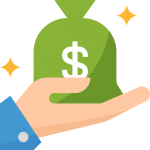 Other available Government Grants: